Ultimate Answer: How to Change Location on Telegram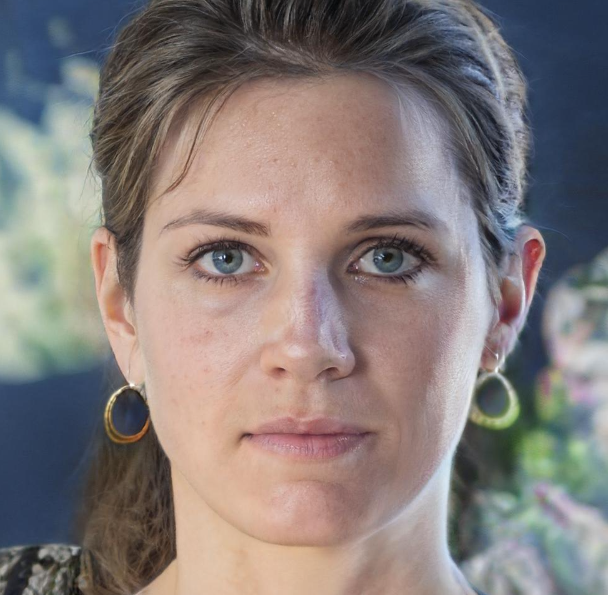 Carrie Murphy
Telegram serves as an open-source messaging platform, affording users the ability to engage in video calls, text conversations, and image sharing among friends and contacts. As a globally utilized application, Telegram fosters connections across geographical boundaries. Despite its emphasis on privacy, the inclusion of location sharing functionality introduces the potential for one's whereabouts to be discerned. Whether due to involuntary location exposure, a playful inclination to surprise friends, or other motivations, the desire to modify the displayed GPS information on Telegram arises. Presented here are the techniques detailing how to change location on Telegram and employ a fake GPS location for various purposes.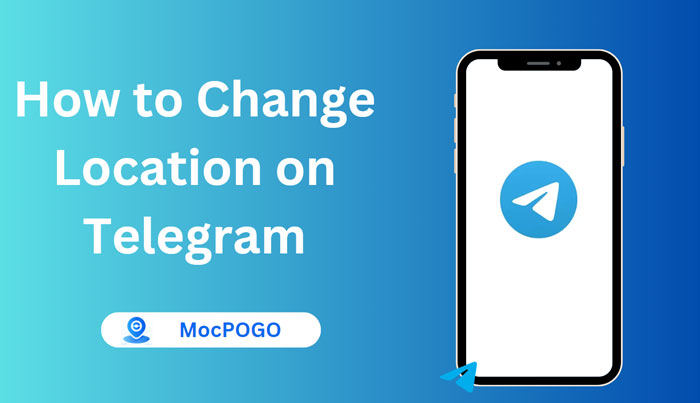 Does Telegram Show Your Location?
In today's digital world, privacy is more important than ever. Messaging apps like Telegram are popular, but we often worry about how much personal info they reveal. One big concern is whether others can know exactly where we are. Telegram, known for being secure, has a feature called Telegram location setting that lets you share where you are with others. But here's the question: Can people see where you are on Telegram, and can you pretend to be somewhere else to keep things private?
Telegram's location-sharing feature empowers users to share their real-time whereabouts, serving purposes like meetups, travel updates, and safety assurance. Control over shared info rests on user preferences; you can opt for exact coordinates or a broader range. This empowers you to tailor the precision of shared locations, addressing privacy concerns. Additionally, Telegram's control over location sharing prompts some users to explore faking their location. Often misconceived, this practice has valid uses like safeguarding travel photos or sensitive scenarios. Achieved via third-party apps altering GPS data, it grants added privacy, but prudent understanding is paramount.
How to Change Location on Telegram with/without VPN
This section explores ingenious methods to manipulate your location settings for added privacy. We delve into two distinct avenues: utilizing our cutting-edge product, MocPOGO, and harnessing the power of VPN technology. With a focus on how to fake location on Telegram and master Telegram change location techniques, we unveil strategies to enhance your control over shared location data.
1. Fake GPS on Telegram with MocPOGO
An effective solution lies in utilizing a reliable third-party app to successfully fake GPS information on Telegram. Based on our experience, MocPOGO stands out as the premier choice for Telegram spoofing, offering both speed and security. This user-friendly app is accessible from any location, day or night, allowing you to swiftly choose your desired new location with just a few clicks.
MocPOGO – Location Changer is compatible with the latest versions of both iOS and Android smartphones, ensuring a seamless experience. It's important to exercise caution as the internet is filled with various third-party GPS spoof applications that lack security measures, potentially jeopardizing your data privacy. MocPOGO, however, employs up-to-date security protocols to safeguard your information, granting you peace of mind as you utilize it to fake GPS information on Telegram.
One-Click to Change GPS Location on iOS/Android
168,282 people have downloaded it.
Change GPS location on iOS device without jailbreak.
Simulate GPS movement with custom speeds.
Change the location of all location-based games/apps.
Support GPS joystick to play AR game on PC.
Multi-Device control up to 15 devices.
Support the latest iOS 16/Android 13.
Should you wish to employ the app for simulating a false GPS location, adhere to the subsequent guidelines:
Step 1 Initiate the process by selecting the "Teleport Mode" icon to identify your present location, rectifying any discrepancies if necessary.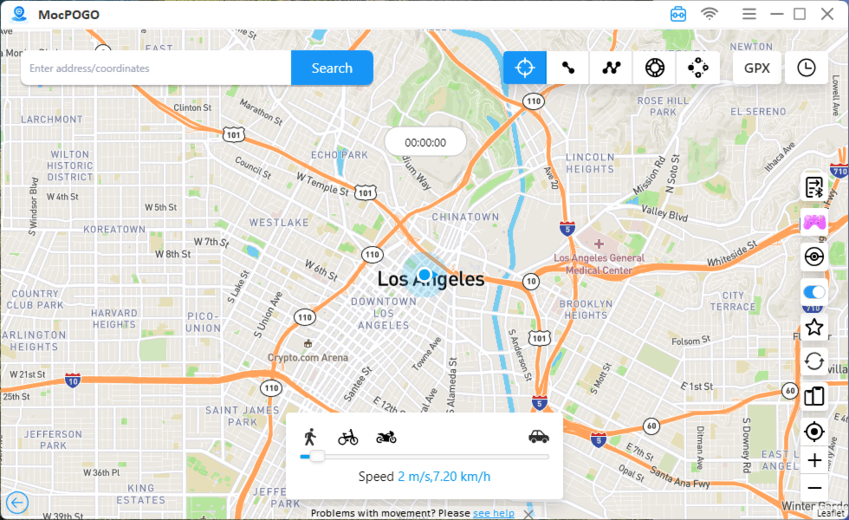 Step 2 Enter either the location's name or its coordinates within the designated search box, subsequently tapping "Search" to confirm your choice.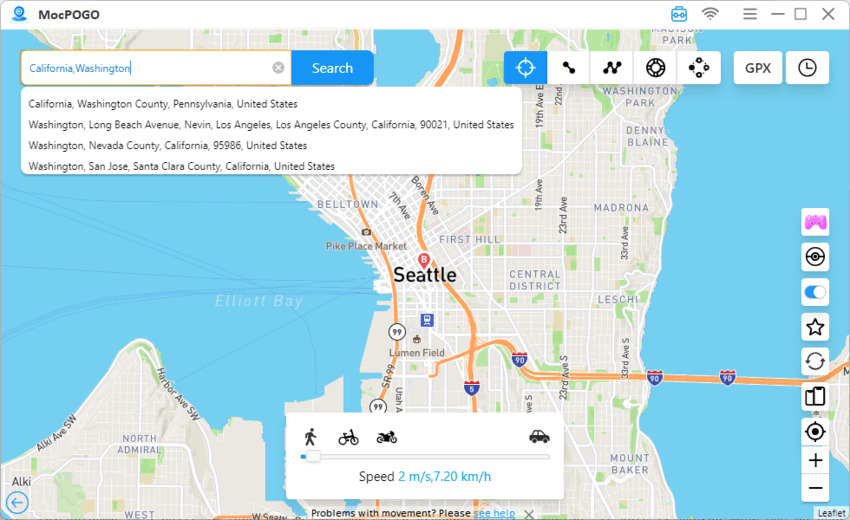 Step 3 Upon completion, an option labeled "GO" will materialize on the map. Proceed by clicking it, seamlessly transporting your location to the selected destination.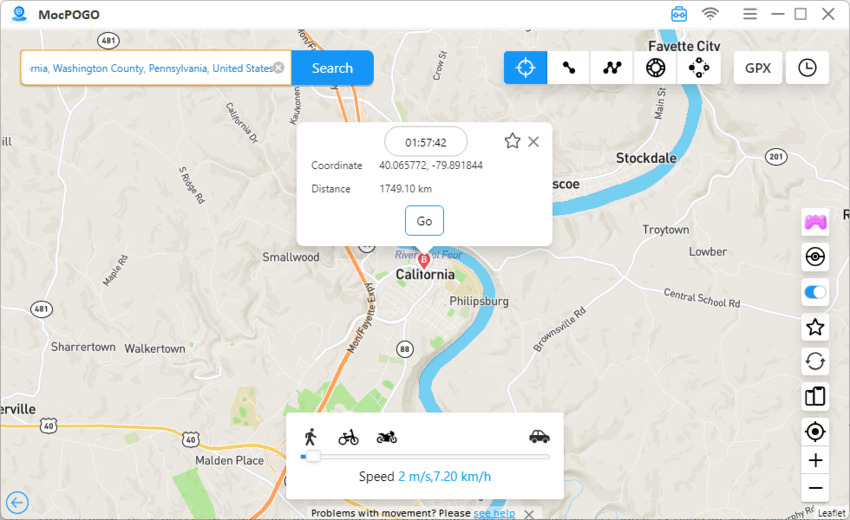 2. Fake GPS on Telegram with VPN
Using a VPN (Virtual Private Network) stands out as a highly reliable approach to altering your location on Telegram. Employing a professional VPN service empowers you to modify your device's IP address, granting access to international websites, TV stations, movie channels, and more. In essence, it establishes a connection to a computer server within a country where access is typically restricted, effectively facilitating a change of location on Telegram. Renowned VPN options encompass NordVPN and ExpressVPN.
To illustrate, let's explore the process of configuring the ExpressVPN service on your Android or iPhone device:
Step 1. Start by downloading the VPN app from the Google Play Store. Once installed, launch the app and create an account.
Step 2. Follow the straightforward on-screen instructions to initiate ExpressVPN's setup and opt for a VPN server location.
Step 3. Lastly, tap the Power button to initiate the connection to the chosen VPN server in the designated country.
The process is remarkably straightforward, isn't it?
FAQs:
1. How to disable people nearby on Telegram?
The People Nearby feature on Telegram isn't activated automatically; you need to enable it to make use of it. And if you've already chosen to use People Nearby but want to switch it off, that's easy too.
Just open Telegram, head to Contacts > Find People Nearby > Stop Showing Me. This action will halt the display of your profile to other users through the People Nearby feature.
2. How to send live location on Telegram?
To share your live location on Telegram, begin by opening a chat with the individual or group you intend to share your whereabouts with. Within the message input field, locate and tap on the paperclip icon. From the ensuing menu, select "Location." Next, decide whether you wish to "Share Current Location" or "Share My Live Location" to provide real-time tracking. You have the option to specify the duration for which you'd like to share your location – this could be for 15 minutes, 1 hour, or 8 hours. Once you've made your selection, finalize the process by tapping "Share." As your live location is shared, a distinctive blue dot will manifest on the map, precisely marking your position. Those within the chat will be able to witness your location as it updates in real-time on the map display. When the predetermined sharing period concludes, your live location updates will halt, and the blue dot will disappear from the map.
Also Read: [The Most Detailed 3 Ways] How to Change Location on Yubo
Summary
To conclude, this article has presented an extensive guide on How to Change Location on Telegram. For a seamless experience, consider employing apps like MocPOGO – Location Changer. MocPOGO offers not only the ability to alter location settings on social media platforms such as Telegram, WhatsApp, and Snapchat but also the capacity to manipulate your in-game position in applications like Pokémon GO.
By installing and utilizing MocPOGO, you can effortlessly modify and transmit a fake location on Telegram, eliminating any technical complexities.