[Feasible] Change Spotify Country with/without Premium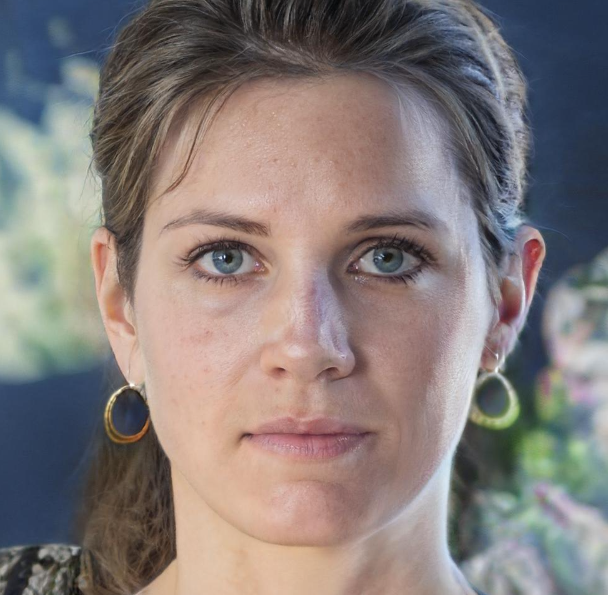 Carrie Murphy
Spotify, a digital music streaming service, offers instant access to an extensive online library of music and podcasts, granting you the freedom to listen to your favorite content anytime you desire. Moreover, Spotify employs a sophisticated algorithm that tailors music recommendations based on your listening history, in addition to providing curated playlists and internet radio stations.
With a vast global user base, Spotify stands as one of the most popular applications for streaming podcasts, music, and more. Given that certain content on Spotify may depend on your geographical location, you might find it necessary to change your Spotify country when relocating to a new place. To facilitate this process, we present a comprehensive guide on how to change your Spotify country, equipped with helpful tips and tricks to accomplish the task seamlessly. So, continue reading to know more about Spotify change country.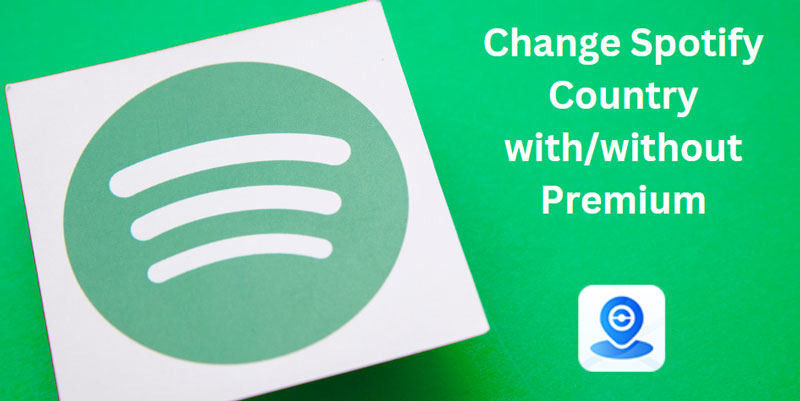 What's Better: Change Spotify Country or Not
Within the ever-changing realm of digital music streaming, Spotify remains a captivating platform for millions of listeners around the globe. But have you ever pondered the possibilities that arise from changing your Spotify country? Prepare yourself for a musical journey filled with potential cost savings and access to previously unavailable features. Let's explore the benefits of modifying your country setting:
Region-Specific Content
Not all content is universally available. You may seek a specific motivational podcast that's a hit in the US but unavailable in your region. Similarly, that new Arabic song you love might not stream in your Australian location. Content restrictions based on region can limit your access to music and podcasts, necessitating the use of Spotify's location change feature to enjoy desired content.
Different Song and Playlist Recommendations
Spotify customizes music suggestions based on your geographical location. People often marvel at how the app seems to know their favorite songs, almost like mind-reading. This is because Spotify identifies the most popular songs in your region, considers language preferences, and tailors recommendations accordingly. Thus, the content you receive is influenced by your current location.
Exclusive Releases and Previews
Some artists release their music exclusively in certain regions or provide previews to select countries before a global launch. By changing your country setting on Spotify, you might gain the advantage of listening to new releases before they become available elsewhere.
Varied Subscription Costs
Did you know that Spotify Premium costs differ across countries? Your location has an impact on the monthly cost of Spotify Premium. In certain regions, it may be more affordable, especially in Asia, Africa, and South America.
Access to Spotify in Unavailable Regions
While Spotify has gained immense popularity globally, it is not accessible in every country. Presently, it is only available in 65 countries. If you reside in a region where Spotify hasn't launched yet, updating your Spotify location to a functional country can grant you access to the platform.
In summary, changing your Spotify country setting opens up a world of opportunities, from accessing specific content and personalized recommendations to enjoying exclusive releases and potential cost savings. So, take advantage of Spotify's location change feature and enhance your musical experience. In the next section, we will take a look at Spotify com update location.
How to Change Spotify Country with Premium
How to change Spotify location? Traveling anywhere without adjusting your account settings is possible. However, if you do decide to change your country or region, follow these steps to update your payment method to one issued in the new location:
Log in to your account page.
Navigate to "Your plan" and click on "UPDATE" next to your current payment method.

Provide the details of the new payment method that was issued in your new country or region.
The changes will be implemented starting from your next billing date.
Without Premium? Try Follow Ways to Change Spotify Country
1. Changing Personal Settings
To utilize Spotify in a different country or region for a brief period of up to 14 days, no account adjustments are required. However, if you plan to use it beyond 14 days in the new location, follow these steps to change your account settings:
Log in to your account page.
Click on "EDIT PROFILE."

Scroll down to "country or region" and choose your new location from the dropdown list.

Note:
Your new country or region will only be displayed when you are physically present there.

To implement the changes, click on "SAVE PROFILE".
2. Using VPN
Should you desire to change your Spotify country, employing a Virtual Private Network (VPN) is the solution. A VPN enables you to modify your IP address, creating the appearance of accessing Spotify from a different country. To accomplish this, sign up for a VPN service and connect to a server in the country you wish to appear from. Once you are connected to the VPN server, you can access Spotify as if you were located in that particular country.
PS: [Tested] Some software not available
According to our team's experiments one by one, except for VPN, most apps that change location cannot support spotify, although they advertise that it can be modified. In the next section, we have discussed the tested way to change location using MocPOGO.
Additional Tips: Fake Location on Anything Other App than Spotify
MocPOGO – Location Changer is a trusted advanced third-party tool for location spoofing, this tool includes numerous features to help users simulate a specific path or spoof location to play location-based games. And it allows users to try it for free.
One-Click to Change GPS Location on iOS/Android
168,282 people have downloaded it.
Change GPS location on iOS device without jailbreak.
Simulate GPS movement with custom speeds.
Change the location of all location-based games/apps.
Support GPS joystick to play AR game on PC.
Multi-Device control up to 15 devices.
Support the latest iOS 16/Android 13.
Step 1 Locate the "Teleport Mode" icon and click on it to identify your current location. If it displays the wrong location, proceed to the next step.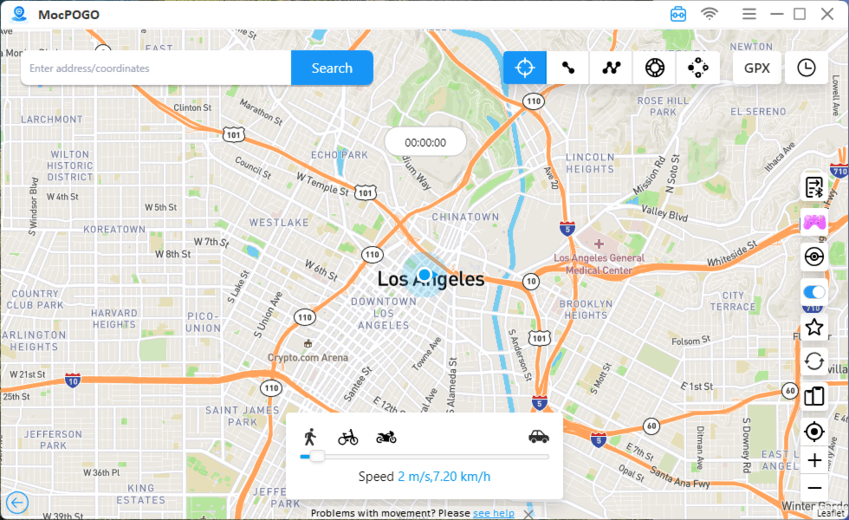 Step 2 In the search box, either enter the name of your desired location or its coordinates. Afterward, click "Search" to select the location you want.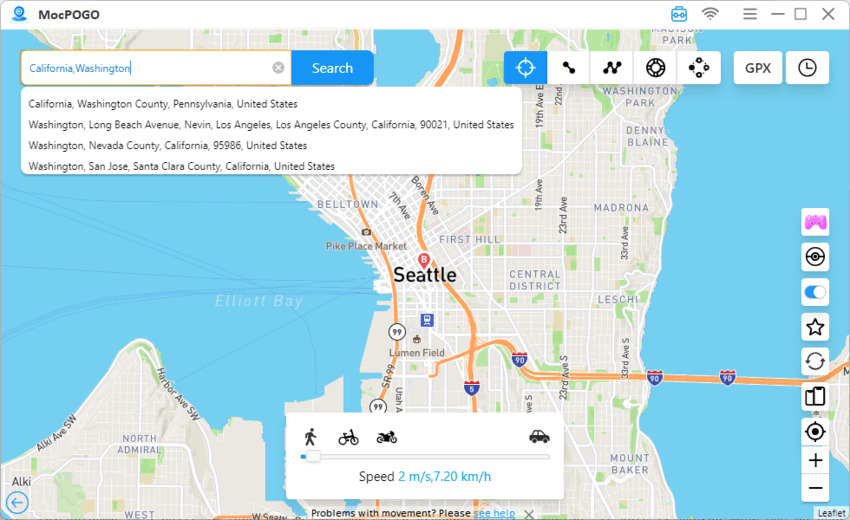 Step 3 Once you have chosen the desired location, a "GO" option will appear on the map. Click on it, and your current location will be teleported to the selected place.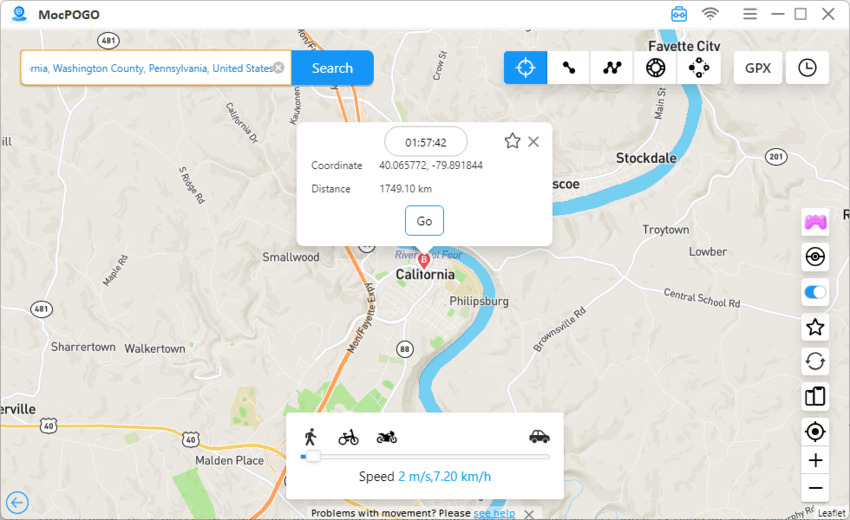 How to change country in Spotify without being there? All you have is to follow the above steps.
Also Read: Fix SoundCloud Not Available in Your Country with 4 Ways
Summary
This article emphasizes the benefits of changing your Spotify country, enabling access to region-specific content, personalized song recommendations, exclusive releases, and potential cost savings. It provides steps to change your country with or without Spotify Premium, and suggests using a VPN for the process. The "Teleport Mode" of MocPOGO – Location Changer is mentioned as an alternative way to modify your location on other apps.